Emergency Access Permit: For Town Residents Only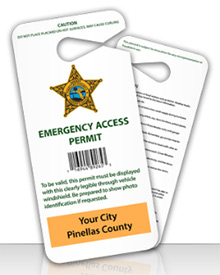 In an effort to prevent looting and burglary after a large-scale mandatory evacuation, the Pinellas County Sheriff's Office and Redington Beach have joined forces to provide free Emergency Access Permits
to all residents. Once a mandatory evacuation order has been lifted, Emergency Access Permits will be required to re-enter an evacuated area. There are nine entry points to the barrier islands. Access will be limited based on the closest entry point to your residence.
You will be asked to hang the permit from your vehicle's rear view mirror for re-entry post-evacuation. When the order is lifted, law enforcement posted at city entrances will scan the bar code on your permit to verify your residence.
With your help, we will be able to keep trespassers from easily accessing your property.
Contact Town Hall to learn more about receiving your free permit by calling (727) 391-3875.